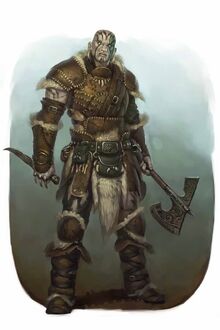 At the highest mountain peaks—far above the slopes where trees grow and where the air is thin and the frigid winds howl—dwell the reclusive goliaths. Few folk can claim to have seen a goliath, and fewer still can claim friendship with them. Goliaths wander a bleak realm of rock, wind, and cold. Their bodies look as if they are carved from mountain stone and give them great physical power. Their spirits take after the wandering wind, making them nomads who wander from peak to peak. Their hearts are infused with the cold regard of their frigid realm, leaving each goliath with the responsibility to earn a place in the tribe or die trying.
Among goliaths, any adult who can't contribute to the tribe is expelled. A lone goliath has little chance of survival, especially an older or weaker one. Goliaths have little pity for adults who can't take care of themselves, though a sick or injured individual is treated, as a result of the goliath concept of fair play. A permanently injured goliath is still expected to pull his or her weight in the tribe. Typically, such a goliath dies attempting to keep up, or the goliath slips away in the night to seek the cold will of fate. In some ways, the goliath drive to outdo themselves feeds into the grim inevitability of their decline and death. A goliath would much rather die in battle, at the peak of strength and skill, than endure the slow decay of old age. Few folk have ever meet an elderly goliath, and even those goliaths who have left their people grapple with the urge to give up their lives as their physical skills decay. Because of their risk-taking, goliath tribes suffer from a chronic lack of the experience offered by longterm leaders. They hope for innate wisdom in their leadership, for they can rarely count on a wisdom grown with age.
Goliaths take on names depending on what feat they have accomplished, such as: Bearkiller, Roothewer, Twice-Killer, or Rockslinger. Any goliath who has not completed a particularly worth deed does not get a name, and they are simply referred to as it by their tribesman. When asked by outsiders what their name is, undeeded goliaths simply say, "It has no name."